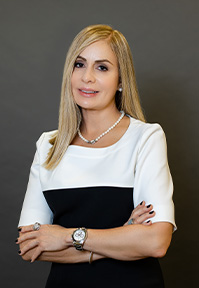 Ms. Maldonado is a Capital Partner and Managing Partner at Sepulvado, Maldonado & Couret. In addition, she heads the Labor, Employment, and Benefits practice group of the Firm.
Having been practicing law since 1995, Ms. Maldonado has focused her legal career in the field of federal and state employment, labor, and employee benefits counseling and litigation. Specifically, she has centered her experience in matters arising under the Employment Retirement Income Security Act (ERISA), the Consolidated Omnibus Budget Reconciliation Act (COBRA), the Health Insurance Portability and Accountability Act (HIPAA), and the Worker Adjustment and Retraining Notification Act. In addition, Ms. Maldonado has performed successfully in high-stakes multi-district litigation of environmental law and products liability litigation.
Before joining Sepulvado, Maldonado & Couret, Ms. Maldonado was a Capital Partner at Puerto Rico's largest law firm, McConnell Valdés. While at Mcconnel Valdés, she was the chair of the Welfare and ERISA litigation practice area and a Partner of the Labor and Employment Law practice group of said firm. She also served as a law clerk to Judges Pedro López-Oliver and Wilfredo Alicea-López at the Court of First Instance of San Juan, Puerto Rico, and as a student law clerk to Federal Judge Jaime Pieras, Jr., at the United States District Court for the District of Puerto Rico.
Ms. Maldonado is regarded as one of the most effective and efficient employment attorneys in Puerto Rico. Her "no-nonsense" character builds her reputation and has allowed her to represent large-scale business and companies with high volume of employment and labor challenges.
In addition to leading the employment, labor, and benefits practice group, Ms. Maldonado oversees the Firm's human resources management. She is also in charge of the relationship with its clients and its daily operations.